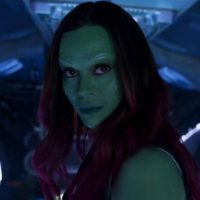 Marvel – 2017(LOS ANGELES) — Zoe Saldana has appeared in more than one high-profile sci-fi project, from Avatar, to her role as Lt. Uhura in the Star Trek movie franchise, to the green-skinned assassin Gamora in Guardians of the Galaxy.
In an interview with The Daily Telegraph, Saldana said playing characters in those movies have allowed her to step away from industry labels and be "colorblind, and gender-blind" in a world structured by race and gender.
"I get to imagine the unimaginable," Saldana says. "I'm always in awe of writers, directors and actors who are able to pull off a world we've never seen — I love working with people who let their imaginations go. Plus, you get to play characters who defy gravity. I like that."
The Afro-Latina actress also says being in sci-fi films has helped her "reinvent" herself.
"It makes me feel superhuman because, obviously, it's been brought to my attention continuously since I was born that I'm not a conventional person because of the color of my skin or my gender or my cultural background," she explains. "So I think science fiction has given me the ability as an artist to be colorblind, and gender-blind, and to imagine and reinvent myself and be the chameleon actors are supposed to be."
Zoe's next film, Guardians of the Galaxy Vol. 2, hits theaters nationwide May 5.
Copyright © 2017, ABC Radio. All rights reserved.