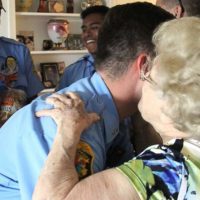 Clearwater Police Department (CLEARWATER, Fla.) — A 94-year-old grandmother got a surprise visit from police before losing power from Hurricane Irma.
Betty Helmuth of Clearwater, Florida, answered her door on Sept. 7 for Officer James Frederick and his colleagues who greeted her with supplies.
The touching moment was captured on video by Clearwater Police and shared on the department's Facebook page one week later.
"Oh my gosh," Helmuth said to the officers. "Oh gosh, you're good-looking!"
Frederick told ABC News that he and his team brought groceries, water and flashlights to Helmuth after her granddaughter, Rachel Copeland of Texas, sent a Facebook message to police asking them to check on her grandmother.
"[Helmuth] was tremendously grateful, thankful and her personality and smile made it well worth it for us," Frederick said. "She [Copeland] went through Hurricane Harvey and had a desire to be sure her grandmother was OK [in Irma] because of what she went through."
Copeland said 75 percent of the Texas town she lives in was under water as a result of Hurricane Harvey. When she heard her grandma would be in the path of Irma, she contacted Clearwater police for help.
"I sent them a message and was just pleading with them, 'Please anything you can do, please help my grandma,'" Copeland told ABC News. "They responded right away. I really can't say how amazing they were."
Copeland said her grandmother was thrilled by the visit.
"She still talking about how good-looking they are," Copeland added, with a laugh. "They're seriously all of our heroes."
Frederick has since returned to Helmuth's home to check on her again. Her power was restored Tuesday, he said.
Copyright © 2017, ABC Radio. All rights reserved.