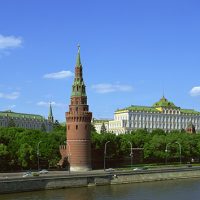 Creatas Images/Thinkstock(MOSCOW) — Vladimir Putin announced Wednesday that he will indeed run for re-election as president of Russia in March.
Speaking with workers at a factory, Putin said that he would "put forward my candidacy for the president of the Russian Federation." Putin had long been presumed to be preparing for re-election, but the announcement ends Kremlin efforts to create suspense around the election.
It is considered a foregone conclusion that Putin would win a fourth term as president, given the Kremlin's moves to block popular members of the opposition from running. That would keep him in office until 2024, making him president for 20 years — the longest ruler of Russia since Josef Stalin.
Copyright © 2017, ABC Radio. All rights reserved.