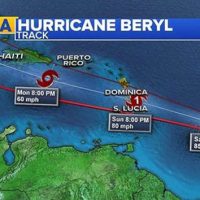 ABC News(NEW YORK) — Hurricane Beryl is churning in the Atlantic on Saturday morning and taking aim at the small islands that make up the eastern Caribbean. It appears, based on the current track, the storm will skirt just south of Puerto Rico, portions of which remain in the dark nine months after Hurricane Maria.
Beryl is currently a Category 1 hurricane with maximum sustained winds of 80 mph.
It is located about 865 miles east-southeast of the Lesser Antilles and is moving west at 14 mph.
It is projected to cross the islands late Sunday as a Category 1 hurricane and then weaken as it enters the Caribbean Sea.
A hurricane watch is in effect for Dominica, and a tropical storm watch is in effect for Martinique, Guadeloupe, St. Martin and St. Barthelemy. Additional watch areas may be required for other islands later on Saturday.
Hurricane Beryl is expected to produce 2 to 4 inches of rain through Sunday across the southern Leeward Islands and northern Windward Islands.
Tropical depression
Tropical Depression 3 is located 195 miles south-southeast of Cape Hatteras, North Carolina, Saturday morning and is moving north-northwest at 6 mph.
Maximum sustained winds are currently 30 mph.
Gradual strengthening is forecast during the next few days, and while it is expected to reach Category 1 hurricane strength by Tuesday, the track remains offshore. However, this still does raise rip-current and rough-surf risks through the end of next week for the mid-Atlantic coastline.
Copyright © 2018, ABC Radio. All rights reserved.