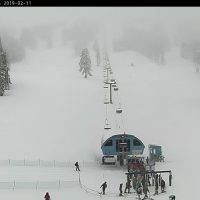 (Mount Bachelor, Oregon) – New snow at Mt. Bachelor is increasing the risk of tree well and snow immersion hazards. Officials say always ski or ride with a friend and educate yourself on good safety practices.
Tree wells form around patches of small trees with branches going into the ground.
Meanwhile, a stormy start to the day on Monday (Feb. 11), as the winter storm dropped 4 inches of new snow overnight and this latest winter blast has no intention of letting up today.
Heavy snow, strong winds and cool temps are expected for the rest of the week.
With strong winds however, some lifts may be affected.
In other mountain news across the beaver state, there's an avalanche warning for the Mt. Hood region until 6 p.m. Monday evening.