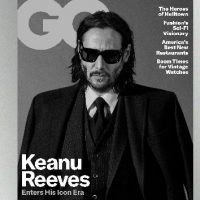 Photo: Daniel Jackson for GQ(LOS ANGELES) — Keanu Reeves has gone through a third career change-up, thanks to his midlife turn as unstoppable hitman John Wick — and he says he has no intention of hanging up that character's multiple guns.
With John Wick: Parabellum hitting theaters on May 17 — a film for which he trained extensively in martial arts and gunplay — Reeves shows no signs of slowing down. He tells the May issue of GQ that he'll be involved in the franchise "as far as my legs can take me," and "as far as the audience wants to go."
In case you're keeping track, some thought the former star of the Bill & Teds movies could never pivot to action movies, before 1994's Speed proved them wrong. They also believed that he'd never star in another franchise again — but the blockbuster Matrix trilogy proved them wrong again.
As for what the future holds for Reeves beyond John Wick, however, the 54-year-old star admits to GQ, "I haven't really thought about my career future, or what was going to happen, until really recently…probably my mid-40s."
Copyright © 2019, ABC Radio. All rights reserved.