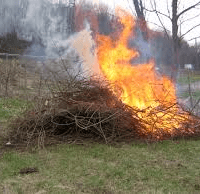 On May 8, ignitions are planned for approximately 9:00 a.m. on Welcome Station 9, a 231 unit one mile west of Bend near the Cascade Lakes Welcome Station on Cascade Lakes Highway.
Due to the location of this burn, the project will closure portions of the Ticket to Ride, COD and Westside Paved Path trails. These trails will likely be closed for a few days to allow firefighters to safely cool hot spots near the trail. Additionally, smoke will be highly visible from Cascade Lakes Highway and portions of Forest Road 41. Signs and flaggers will be available if smoke begins to impact traffic flow the highway. Forest Service firefighters will be assisted on this burn by Bend Fire, The Nature Conservancy and Interagency hotshots.
Outside of Sisters, firefighters are planning to burn the 138 acre SAFR unit 282 adjacent to the Cold Springs Cutoff (Forest Road 1012) northwest of Sisters. Smoke will be visible from Highway 20 and the town of Sisters but no closures are anticipated with this burn.
While no closures are expected with any of these burns, smoke may be visible from state highways and nearby Forest Roads and drivers may experience smoke impacts.