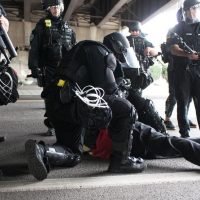 (KATU-ABC 2) PORTLAND, Ore. – Police detained 13 people during a widespread day of protests in downtown Portland on Saturday.
Authorities say Alexander Dial was arrested and booked into the Multnomah County jail on charges of second-degree assault and unlawful use of a weapon. Another person, identified only as John Doe, was booked on second-degree disorderly conduct.
Nine others were cited and released in lieu of custody. Their charges ranged from disorderly conduct to interfering with police. Two protesters were under 18 years old and in their cases, charges were referred.
The arrests stemmed from demonstrations across the downtown Portland area as a far-right "End Domestic Terrorism" rally was met with anti-fascist counter-demonstrators.
Following the protest, Portland Mayor Ted Wheeler called out rally organizer Joe Biggs, who came from out of state and cost the city millions of dollars in resources.