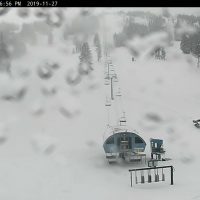 BEND, Ore., Nov. 27, 2019 — Mt. Bachelor, a POWDR resort that boasts natural mountain adventure at the heart of Bend, Oregon culture, announced today it will begin lift operations on Friday, Nov. 29 from 9 a.m. to 4 p.m. at West Village base area. "Hopening Day," an event designed to bring the community together to come play in the snow is planned for Black Friday from noon to 4 p.m., will continue as planned, creating more reasons to come kick off the winter 2019-20 season at Mt. Bachelor.
With recent storms, Mt. Bachelor has accumulated 20 inches since 6 a.m. on Tuesday, allowing Mt. Bachelor's operations team to prepare the West Village base area and Little Pine chairlift for Friday opening. The Little Pine chairlift is scheduled to run Friday through Sunday from 9 a.m. to 4 p.m., serving the Home Run beginner trail with entry level Woodward Mountain Park features on slope. Lift tickets can be purchased for $39 online at www.mtbachelor.com, or in person for $49 at Gateway Building ticketing center. Tickets for children age 5 and under are free.
In the West Village base area, opening services offered are equipment rentals, tuning, and food and beverage options at the Clearing Rock Bar, Cocoa's Café and Pinnacles. A select set of ski and snowboard lesson options are available through Mt. Bachelor's Gravity Snowsports School. Mt. Bachelor childcare will also be open beginning Saturday and Sunday at 8 a.m.