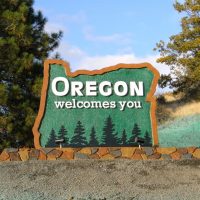 While many people are out buying chocolates, professing their love for one another or instead simply not giving a hoot about Valentine's Day, some of us are out celebrating something else.
In the Pacific Northwest, people are surrounded by lush landscapes and endless possibilities. What better day to spend enjoying these things than on this love-centered holiday – which in fact, doubles as Oregon's Birthday?
Oregon became the 33rd state in the United States on Feb. 14, 1859, making her 161 years old today.
Courtesy: THE ADVOCATE