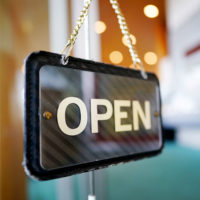 MyCentralOregon.com is currently compiling a list of local businesses all across the High Desert that are STILL OPEN or opening BACK UP, during the COVID-19 pandemic.
Please e-mail News Director Austin Reed with your listing via:
AReed@HorizonBroadcastingGroup.com
You can also call our 24-hour news tip hotline @ 541-323-NEWS (6397)
*Please note: this page will only be updated twice per day during the week and we will do our very best to get your listing up, but please be patient.
Below is a local list of businesses that have sent in their information and are still open, as of 5/26/2020:
*Redmond Auto Care Experts/Ponderosa Auto Repair, open for business!
*Three Creeks Brewing Company, in Sisters; open for dine-in and take-out
*Pho Viet, on 3rd street, in Bend is now offering take-out and seating on their patio.
*Goody's will now be offering phone-in and online ordering of "Goody's Bags", which offer all of your favorite Goody's handmade treats; ice cream, waffle cones, chocolate covered Oreos and specialty popcorn. Call (541) 385-7085 for more information.
*Cracker Barrel of Bend hours are now 8am-8pm for to-go only, but the gift shop is back open!
*The Original Pancake House in Bend and Redmond are now open for take out daily from 7:30-1:30, Bend: 541-317-0380 and Redmond: 541-316-2515
*Les Newmans Quality Outdoor Clothing is OPEN for Business, in Bend 7 Days a week. 126 NE Franklin Ave. Selling  Nick's,Lowa, Kenetrek,and Red Wing work and wildland fire boots. Plus lots of great outerwear.
*River Roofing-Bend has been and continues to stay open for business. Call 541.383.3569 for more information.
*Vaquero Valley Ranch and Cattle Co. is still open for business. Owner Ron Miller says they have their meat processed at Oregon Beef Company in Madras and is a U.S.D.A. certified plant. More details here:
*Garrett's Custom Drywall. Specializing in custom new residential and remodeling. Call 541.213.0281 (ccb #229573)
*Juniper Pantry store and deli still open for business. Take out only. Open 7 days a week 8am-8pm 11712 SE Davis Loop, in Prineville; 541-416-3786
*Denture In wanted to let Central Oregon know we are open for emergency appointments. Please be advised that we are still taking the necessary precautionary measures to combat COVID19. Office Hours:  8-4 Monday-Friday, call 541-389-7485
*Rimrock Trails Treatment Services', in Prineville is exacerbating individuals' anxiety, depression, grief, isolation and a myriad of other concerns. During the health crisis, we are continuing to provide mental health counseling. Please contact us at (541) 388-8459 and a Coordinator will be happy to assist you in scheduling an individual or family Telehealth Counseling appointment.
*Potter's Piano Service is Open For Business.  Randi Potter, RPT, is a Registered Piano Technician Member of the Piano Technicians Guild, and has been serving Central Oregon for 40 years. Call her cell for an appointment, or to ask questions: 541-610-6448.
*Chucks Auto Shop Inc. is still open Monday through Friday 8am to 5 p.m. Hybrid, electric and gasoline automotive repair.
*AAA Oregon Autosource is open and taking appointments. Offering new and used car sales. Trades accepted, financing available. Bob Hoffman at 541-480-6470
*Niki Lopez, counselor in Redmond is open for clients. She offers in office sessions or telephone and video sessions for clients if they prefer. Phone number is 541 279 7931.
"Imagination Station" for K-3rd grade – Session 2
Dates: (Session 2) Tuesdays & Thursdays – April 21st – 30th
Time: 3:00 – 3:45pm
Ages: K – 3rd Grade
Cost: $35
Tech requirements – access to Zoom and Google Classroom
All aboard the BEAT Train! Next stop, Imagination Station! Travel to fantastic lands, whimsical worlds and distant planets, all from your own self-quarantined home with our remote class. Join us for LIVE exercises and games, designed to inspire and cultivate an active imagination!
*SP Auto & Transmission World is still open for business with normal operating Hours; 20580 Painters Court, Bend OR 97701, 541.389.9881
*Bend Pet Adventures still taking dogs on pack hikes and boarding in home for people having to travel. Contact Lauren Murphy, Adventure Buddy/Owner, more info here: Bend Pet Adventures
*From: Mancini Furniture Restoration. My business phone is 541-617-1233. I work alone, so am very safe. Website is: www.Mancinifinish.com
*Intigress digital marketing is open during normal business hours. We are here to help you keep your business open! Contact us today for professionally managed digital advertising and search engine optimization or learn more now at https://www.intigress.com
*Redmond Speech & Language is still open for business, mainly via teletherapy. They are accepting new patients at this time in both Bend and Redmond.
*From Berkshire Hathaway HomeServices, although our physical offices are temporarily closed (open by appointment only), our brokers are still happily working to list and sell real estate. With advance permission, scheduling, and safe practices, we can still provide physical showings for buyers as well as the "virtual" services.
More info here: https://mitchd.bhhsnw.com/
*FROM: Bend Premier Real Estate. They tell us that they are still open for business, still selling and listing homes and doing virtual 3D matterport tours on nearly every home so that they are able to maintain social distancing and allow people to virtually tour homes without being inside of them.
*Plateau Veterinary, in Bend is open with regular hours
*From: Bend Pawn and Trading Company, located at 61420 S Hwy 97 Bend, OR 97702. We are open for business Mon-Friday 9:00 am to 5:30 pm. We are employing proper social distancing and other aspects to keep everyone safe.
* From: C&M Custom Auto and Tire, in Redmond at the North Y. We are still open, but staying safe to help our community with any automotive needs!
*Redmond taxi in Redmond is still open for business 7 days a week from 6am until 12-midnight.
*Willstech Computer Solution in Bend; a computer and cell phone repair shop, is still operating under our normal business hours. To maintain safe social distancing, we can only allow two customers in the store at a time. Stay safe and stay healthy.
*From: Dr. Deb LaPaugh at LaPaw Animal Hospital, WE ARE OPEN, we have decreased our hours to close at 5pm due to the Zombie Apocalypse that is currently upon us!
*Home Heating & Cooling is still open for business, regular business hours currently.
*Aurora Outfitters NW: Private campground is open; 3 campsites spaced out over 20 acres. Owner says it is good for social distancing. More at: www.auroraoutfittersnw.com
*LYNCH PRO-FORMANCE PRODUCTS is open. They can be reached at: 541 548 6178
*O'Reily Auto Parts Bend is still open, but do note they have special hours
*McDonalds of Central Oregon, drive-through only
*Cascade Mattress    (541) 678-7378
*Papa Murphy's Pizza  available on-line at papamurphys.com
*Team Kia of Bend
*Subaru of Bend
*Suba Guru
*Cracker Barrel Bend
*The Growler Guys West is open for to go draft fills, inside the Circle K/Chevron on 1400 NW College Way
*Geist Beerworks and Moonshine Bar open limited hours for pick up and delivery available in Redmond 541-728-8663
*Bohemian Roastery LLC., Wood-Fire coffee roasting company. Owner says they ship nation-wide but also personally deliver bags of coffee in Central Oregon. Info: bohemianroastery@gmail.com 877-797-4330
*Batteries + Bulbs is open!  541-241-1130, come on in or order online at www.batteriesplus.com now offering curbside service. We've even got some classic games to pass the time at home!
*Prineville Rentals & Power Equipment
STAY WITH THIS PAGE FOR UPDATES!