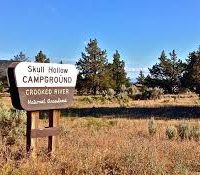 Prineville, Ore.- Starting this Friday, May 22, the Ochoco National Forest & Crooked River National Grassland will begin a phased reopening of developed recreation sites that were temporarily closed in March in response to Governor Brown's executive order.
All trailheads and OHV staging areas will reopen this Friday for the beginning of the Memorial Day weekend. Although open and accessible, expect limited services as we continue to develop systems and procedures to provide for employee and public safety. Please prepare to be self-sufficient regarding items such as water and personal hygiene needs.
In addition to trailheads, the following campgrounds will also open on Friday with full services:
Skull Hollow Campground;
Haystack Reservoir Campground and Day Use; and
Walton Lake Campground.
"We are working closely with our state and local partners to determine the best path forward to safely reopen sites closed in response to the pandemic," said Forest Supervisor Shane Jeffries. "Meanwhile, continuing our service to you during this time is very important. We are committed to providing customer service and advancing recreation opportunities in an adaptable manner."
Staff are working on plans to reopen more campgrounds in the coming weeks as time and resources allow. The Forest Service must complete normal procedures for opening seasonal campgrounds, such as testing potable water sources and addressing hazard trees, in order to safely open sites for public use.
The Ochoco Ranger Station and the Cold Springs Guard Station cabin rentals will remain closed initially.
Keep checking our Forest website to see updated information on which developed sites are open: https://www.fs.usda.gov/recmain/ochoco/recreation
Dispersed camping in general forest and grassland areas, as well as roads and trails, all remain open for public use.
Forest employees urge the public to "Know Before You Go" when making plans to visit National Forests and Grasslands. Some amenities, such as restrooms and trash disposal, may be unavailable.
Please plan to recreate responsibly, observing Leave No Trace and 'pack it in pack it out" ethics, while ensuring campfires are 'Dead Out' prior to leaving a campsite.
Please help protect the people who protect you and your public lands by leaving campsites cleaner than you found them and helping to prevent forest fires.