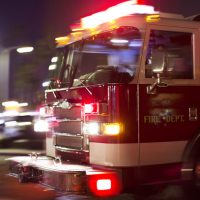 [THE DALLES, Ore.]  The Fir Mountain Fire reached full containment this afternoon and has transitioned to patrol status with The Dalles Unit.  Resources on the fire were released to their home unit late this afternoon.
Monday night crews used handheld infrared cameras across the fire to find any remaining heat sources.  Crews worked on these hot spots yesterday and will continue to identify heat and smoke today to secure the fire.  Hose and other supplies continue to be removed from the fire and returned to the fire cache for clean-up and re-supply.
All road closures and evacuations for the fire area have been lifted in both Wasco and Hood River counties.
The Fir Mountain Fire is 313 acres and was first reported late on August 1, 2020.  The fire is human caused and under investigation.  Anyone with information which may help investigators find the person responsible for the fire is asked to call the Oregon State Police Tip Line, 1-800-452-7888.
ODF's Central Oregon District continues to serve landowners and the public as an essential service for Oregonians.  Please call or email to talk with our staff or schedule an appointment.  For additional information on ODF's Central Oregon District, including contact information and unit offices, please visit www.ODFcentraloregon.com.