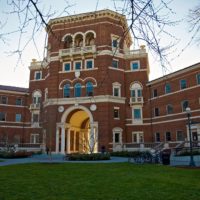 By Sean Nealon, 541-737-0787, sean.nealon@oregonstate.edu
Source: Charlene Alexander, 541-737-5936, charlene.alexander@oregonstate.edu
This news release is available online: https://beav.es/oAy
Photo of Dorian Smith, assistant director of Black Student Access and Success: https://flic.kr/p/2jKxXPz
CORVALLIS, Ore. – For the third consecutive year, Oregon State University has received a national award that honors colleges and universities for having a campus culture committed to diversity and inclusion.
Oregon State was one of two universities or colleges in Oregon and one of only four Pacific Northwest institutions and 91 nationally to receive the 2020 Higher Education Excellence in Diversity (HEED) Award from INSIGHT Into Diversity magazine.
"Only about 3% of the nation's colleges and universities receive this award annually, and for Oregon State to have received this award for three consecutive years signifies our ongoing commitment to the progressive advancement of inclusion and diversity both on campus and society at large," said Oregon State President F. King Alexander.
Earlier this month, Alexander unveiled a university-wide effort called "Moving Forward Together." The initiative outlines actions and commitments underway – and others that are planned – to advance OSU's commitment to opposing systemic racism and supporting the success of Black, Indigenous and other students, faculty and staff of color.
Charlene Alexander, vice president and chief diversity officer at Oregon State, said the award is recognition of the contributions of many individuals across the university.
"I am amazed every day at their hard work and commitment," she said. "This has been a challenging year, one that has exposed areas where we know we can do better. I look forward to working with the OSU community as we move forward together."
In recent years, Oregon State has worked to advance recruitment and retention of students from historically underrepresented communities, recruit and retain diverse faculty and help students develop cultural competence, Charlene Alexander said. Efforts include:
As a recipient of the HEED Award, Oregon State will be featured, along with 90 other recipients, in the November issue of INSIGHT Into Diversity magazine, the oldest and largest diversity-focused publication in higher education.
"The HEED Award process consists of a comprehensive and rigorous application that includes questions relating to the recruitment and retention of students and employees — and best practices for both — continued leadership support for diversity, and other aspects of campus diversity and inclusion," said Lenore Pearlstein, publisher of INSIGHT Into Diversity magazine. "We take a detailed approach to reviewing each application in deciding who will be named a HEED Award recipient. Our standards are high, and we look for institutions where diversity and inclusion are woven into the work being done every day across their campus."