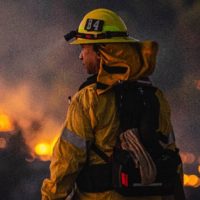 Lionshead Fire Update 
Wednesday, Oct. 14
REDMOND, Ore. –   Rain continued to fall on the fire area reducing activity and smoke in Central Oregon. Much of the region received an inch of precipitation over the past day, with the east side of the fire receiving a half an inch of rain. The precipitation, along with cooler temperatures, has allowed fire crews an opportunity to address hazard trees and debris flows around the fire perimeter.
Suppression repair work has continued to return the area back to a pre-suppression state. Fire personnel have been careful to mitigate hand and dozer lines without causing additional damage by driving on dirt or muddy roads.
On Wednesday, firefighters plan to continue chipping and suppression repair activities while patrolling and monitoring the perimeter of the fire for hot spots. Crews do not expect the fire activity to increase but will be available in case hot spots flare up around the perimeter of the fire.
Northwest Incident Management Team 13 is working with cooperating agencies to prepare the transition of fire management back to the local units in the coming days. "We're going to be remembered for how we finish," said Incident Commander Brian Gales. Fire crews plan to finish suppression repair to the established standards, reducing the amount of damage to the land.
Weather: Cold and wet weather will continue through Wednesday afternoon, with the west side of the fire expecting about half an inch of rain. Precipitation will taper off Wednesday evening, bringing a stretch of warmer and drier weather. Fire officials do not expect fire activity to increase despite the warmer and drier weather. Cooler and drier weather is expected over the weekend, with highs around 60.
Safety: Unpaved roads are muddy, particularly on the west side of the Cascade Crest. Avoid driving or parking on unpaved roads to in order to not get stuck in the muddy conditions. Rock falls and falling trees create potential hazards around the fire footprint. Use caution when traveling on newly opened roads, as unmarked hazards may exist.
Lionshead Fire
Pacific Northwest IMT #13
Public Information Phone: 971-277-5075
Media Inquiries: 541-904-0542
Incident E-mail: 2020.lionshead@firenet.gov
Incident Website: https://inciweb.nwcg.gov/incident/7049 
YouTube: https://www.youtube.com/channel/UCHSR6_yJRQkHyGjvvqX99gw
Facebook: www.facebook.com/LionsheadFire 
South Fork Trail Reroute Implemented for Bridge Replacement
Closure set to being Monday, October 19 and extend until completion of project
Bend, Ore.- Beginning Monday, October 19, Deschutes National Forest trails specialists plan to close the South Fork Tumalo Trail #25.1 where the trail crosses the South Fork of Tumalo Creek in order to replace the trail's bridge. The closure will be implemented until the project is complete later this fall. Trail users can detour to Forest Service Road 4603 to avoid the closure (see attached map).
The South Fork Tumalo Trail serves as a hiking and biking trail in the summer and as a Nordic trail in the winter. It provides important trail connectivity and access for several popular destinations. The bridge replacement is conducted in partnership with the Central Oregon Trail Alliance (COTA) and Central Oregon Nordic Club (CONC). Both groups are providing funding and volunteer labor.
Archie Creek & Thielsen
NORTHWEST INCIDENT MANAGEMENT TEAM 12
Incident Commander: Bob Shindelar
October 14, 2020
The Archie Creek Fire is east of Roseburg in the North Umpqua corridor on state,
private, and federal land. The Thielsen Fire is located five miles north of Crater
Lake near Diamond Lake on National Forest lands. Both fires received between
an additional quarter to half inch of rain yesterday. There is a warming and drying
trend starting today and extending through the weekend. Winds will be out of the
north at 8-12 mph in the valleys, with northwest winds 10-14 mph on the ridges.
Temperatures today will be 55-60 on the Archie Creek Fire and 50-55 on the
Thielsen Fire.
Yesterday's Operations:
Archie Creek – Firefighters patrolled and monitored around the fire perimeter.
Fire crews collected equipment and supplies no longer needed on the fire and
returned these supplies back to base camp. Suppression repair work continued to
minimize erosion and protect resources. Crews continued removal of hazard trees
along roads. The BAER team continued their post-wildfire assessments to
determine appropriate mitigation actions on National Forest lands.
Thielsen – Fire crews continued patrol and suppression repair work along
containment lines. In the North Diamond Division, firefighters improved ingress
and egress to Highway 138 and removed hazard trees along FS 005 road.
Additionally, firefighters removed debris in the southern area and chipped
vegetation debris in the northern area.
Today's Operations:
Archie Creek – Firefighters will be in patrol and monitor status around the fire
today. Firefighters are continuing their work on suppression repair of the
containment lines to restore natural drainage on the landscape. Resource
Advisors from the Forest Service will continue working with firefighters during
implementation of suppression repairs to minimize erosion and protect resources.
Fire crews are collecting any remaining equipment and litter on the fire.
Firefighters are removing dangerous fire-weakened trees and snags along roads.
The BAER team continues to assess post-wildfire environmental conditions and
determine appropriate actions to mitigate the effects of fire suppression on
National Forest lands.
Thielsen – Fire crews will be patrolling and focusing on suppression repair work
along containment lines. In the North Diamond Division, work on improving
ingress and egress to Highway 138 will continue. Firefighters will identify and
remove hazard trees along FS 005 road. Firefighters will continue debris removal
in the southern area and chipping in the northern area.
Safety Message & Help for Fire Victims:
Archie Creek: 131,542 acres
CONTAINMENT: 95%
PERSONNEL: 234
Thielsen: 9,975 acres
COMPLETION: 75%
PERSONNEL: 83
CAUSE: under investigation
for both fires
MILES OF FIRELINE REPAIRED:
92.1 (across both fires)
MILES OF REPAIRED ROADS:
51.7 (across both fires)
RESOURCES:
Archie Creek Thielsen
Hand Crews 2 0
Engines 4 2
Dozers 1 1
Water Tenders 0 3
FIRE INFORMATION:
(971) 334-7674
2020.archiecreek@firenet.gov
INCIWEB:
https://inciweb.nwcg.gov/incident/7176/
FACEBOOK:

ThielsenFireInfo/
Please stay out of fire closure areas for your safety and that of the firefighters. Sawyers are felling hazard trees along roadway
corridors, and there is increased traffic as firefighters reposition heavy equipment on narrow roads. Visit the Oregon
Department of Environmental Quality at http://www.oregon.gov/deq for Air Quality information. Be cautious driving in low
visibility conditions. Disaster aid, and organizations helping victims of the Archie Creek Fire, can be found at
Closures, Restrictions & Evacuations:
• Due to cooler temperatures and rain this week, Public Use Restrictions have been removed on Umpqua
National Forest and Roseburg District BLM lands. Fire season remains in effect, however campfires in undeveloped
sites and outside of approved fire rings will be allowed on Roseburg BLM and U.S. Forest Service lands. Members of
the public are reminded to never leave a campfire burning unattended and to make sure the campfire is completely
extinguished before leaving the area.
• Roads – Highway 138E is open, but delays should be expected. The route to Miller Lake via FS Road 9772 remains
closed from the intersection with Hwy. 97 to the intersection with FS Road 110 due to firefighter traffic. Drivers are
being directed to take FS Road 9774 to connect with FS Road 110 as an alternate route. See www.tripcheck.com for
updates on highway closures.
• Bureau of Land Management – All BLM-managed lands in the Swiftwater Resource Area east of the Range 3 and 4
boundary line and north of Little River Road are closed. This includes portions of Rock Creek Road and all BLM
recreation and day use sites within the closure boundary, including Rock Creek, Lone Pine, Millpond, Scaredman and
Susan Creek campgrounds. Cavitt Creek Falls Campground is closed for the season. For more information, see
https://inciweb.nwcg.gov/incident/article/7176/57115/
• Umpqua National Forest – Sections of the North Umpqua and Diamond Lake Districts remain under a fire closure
order. Umpqua Hot Springs, fire lookouts, cabins and group picnic sites remain closed. Diamond Lake Resort and
Diamond Lake are now open for public recreation, but Diamond Lake Campground is closed for the rest of the year.
North Umpqua District closure: https://inciweb.nwcg.gov/incident/article/7176/57090/ and Diamond Lake District
closure: https://inciweb.nwcg.gov/incident/article/7195/57398/. More information on Forest Service closures is available
at: https://www.fs.usda.gov/alerts/umpqua/alerts-notices. The Umpqua National Forest is currently at Industrial Fire
Precaution Level I. The fire danger is Moderate.
• Temporary Flight Restriction – No temporary flight restrictions are in effect for the Archie Creek or Thielsen Fires.
• Evacuations – No evacuations remain in place.