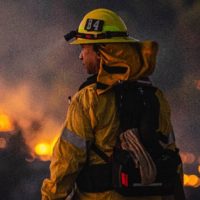 Slater Fire – 156,637 acres and 82% containment
Yesterday, a small pocket of fire was found outside the containment lines south of Takilma, in the Cowboy Mine
area. The 30- x 30-foot breach was contained and firefighters continue to patrol the area. The rest of the north
flank of the fire is in patrol status. On the east side and the interior of the fire, there are some lingering pockets
of heat. Continued smoldering is reported in the Chicago Creek drainage (east of Sanger Peak), as well as within
the Sucker Creek drainage on the northwest flank. Air operations will continue patrol and respond, as needed.
Repair work along dozer lines built to protect homes and structures continues. Residents along the north and
south flanks can expect to see crews repairing dozer lines over the coming days. Crews will continue patrol,
monitoring and mop up as needed. Crews that are repairing dozer lines will switch to fire suppression work
should the need arise.
Removing trees damaged from the fire that pose a hazard to the Grayback Road continues to be a top priority.
Two teams are removing hazard trees along the roadway. One team is working its way from Happy Camp north,
and the other is working from the north towards Happy Camp.
Devil Fire – 8,885 acres and 60% containment
Aerial and foot patrols over the Devil Fire will continue.
Weather and Fire Behavior
A continued northeast airflow is expected, and temperatures are predicted to rise toward 80 degrees in the
valleys and into the 70s on ridgetops. Light winds are likely with ridgetop gusts up to 20 mph. There will be
decreasing moisture in the air and lower humidity through the day, with slightly higher humidity at night. Forest
fuels are expected to continue drying. Fire behavior should consist of mostly surface smoldering and creeping on
south-facing aspects where heat persists.
USDA is an equal opportunity provider, employer and lender.
Evacuations
In Happy Camp, the Mandatory Evacuation is still in effect above
the intersection of Indian Meadows Road and Indian Creek Road.
For specific information regarding evacuations see the following:
Siskiyou County Office of Emergency Services information:
(530) 643-3662 or www.facebook.com/SiskiyouCountyOES
Del Norte County information: (707) 464-7213 or
www.facebook.com/DelNorteOfficeOfEmergencyServices and
www.preparedelnorte.com/
Closures and Restrictions
The Klamath, Six Rivers, and Rogue River-Siskiyou National Forests
have issued fire area closure orders for the Slater and Devil Fires.
The Pacific Southwest Region is under emergency fire restrictions,
although the use of gas stoves is allowed in open developed
recreation sites. Find closure orders and maps at:
www.fs.usda.gov/klamath, www.fs.usda.gov/rogue-siskiyou, and
www.fs.usda.gov/srnf.
Portions of both the Rogue River-Siskiyou National Forest's Wild
Rivers Ranger District and Siskiyou Mountains Ranger District have
reopened for use. Some areas remain closed for emergency crews'
safety and to allow for fire suppression and burned area recovery.
Find closure orders and maps at: www.fs.usda.gov/alerts/roguesiskiyou/alerts-notices. The latest updates on fire danger levels and
public use restrictions within the Forest are available at:
www.fs.usda.gov/detail/rogue-siskiyou/newsevents/?cid=FSEPRD824854.
The Bureau of Land Management Medford District has public lands
closures in effect near the Slater Fire and South Obenchain Fire.
Find closure area maps at: www.blm.gov/programs/public-safetyand-fire/fire-and-aviation/regional-info/oregon-washington/firerestrictions.
Burned Area Emergency Recovery information and resources for private landowners impacted by the Slater and
Devil Fires are available at: inciweb.nwcg.gov/incident/7237/.
Incident Statistics
Size:
Slater
Devil
156,637
8,885
Containment:
Slater
Devil
82%
60%
Injuries: 12
Fatalities:
Date detected:
2
9/8/2020
Cause: Under
investigation
Structures Threatened: 150
Structures Damaged: 11
Structures Lost (total):
Residential
Commercial
Mixed
Other
440
197
1
5
237
Estimated cost:
Slater
Devil
$44.8 million
$679,525
Resources
Hand Crews: 10
Engines: 22
Helicopters: 3
Fixed wing aircraft: 2
Dozers: 2
Water tenders: 1
Total Personnel: 631