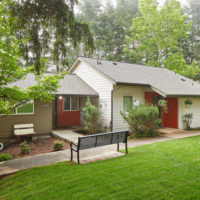 Investments preserve 102 units of affordable housing in Douglas and Jackson counties
PORTLAND, Ore., Oct. 20, 2020 — The $19.7 million renovation of three apartment complexes in southwest Oregon has been completed and will preserve 102 units of rental housing serving low-income and elderly rural residents, announced U.S. Department of Agriculture (USDA) Rural Development State Director John Huffman today.
"As in many areas of the West, affordable housing is badly needed in rural southwest Oregon," said Huffman. "We are pleased to announce the completion of these renovation projects, which will ensure 102 low-income families and seniors have a safe place to call home for years to come."
The renovations of Hillside Village in Glendale and both Valerie Hills and Woodville Village in Rogue River are now complete. New roofs, siding, gutters, and windows were installed. Inside the apartment homes, the kitchens and bathrooms were remodeled. Those units in the greatest need of repair received new flooring and appliances while the remaining apartments will be updated upon the departure of the current tenants or at the end of the useful life of the items. The apartment complexes were updated to meet current accessibility standards. In addition, energy-efficient upgrades were completed, including the installation of water conservation and HVAC systems, that will help residents reduce their utility bills.
This project supported local businesses and jobs. Across the three apartment complexes, the general contractor LMC hired 15 local subcontractors at a cost of $1.7 million. Additionally, $695,000 went to state-certified minority, women, and emerging small businesses.
Catholic Charities of Oregon, through its dedicated housing entity, Caritas Housing Initiatives, purchased the three apartment complexes in 2018 and renovated them using $1,237,500 in loans from Bellwether Enterprise that were guaranteed by USDA's Multi-Family Housing Loan Guarantee Program. Additional funding was provided by Meyer Memorial Trust and Federal Home Loan Bank. Oregon Housing and Community Services contributed funding through its Low Income Housing Tax Credits, Weatherization Grants, Home Fund Grants, and General Housing Account programs. In all, the total cost of these projects was $19,698,120.
Overall, these renovations will preserve 102 units of much-needed affordable rental housing, as well as rental assistance provided by USDA for 61 low-income residents at these apartments to ensure they pay no more than 30 percent of their income on rent, while improving the apartments and quality of life for the tenants.
The Multi-Family Housing Loan Guarantee Program guarantees loans made by private-sector lenders to finance the purchase, construction, or renovation of affordable rental housing for low-income residents in rural areas with a population of 35,000 or less. Most state and local government entities, nonprofits, for-profit organizations, and federally-recognized Tribes are eligible borrowers under this program. Applications from lenders are currently being accepted through December 31, 2021.
USDA Rural Development provides loans and grants to expand economic opportunities and create jobs in rural areas. This assistance supports infrastructure improvements; business development; housing, community facilities such as schools, public safety, and health care facilities; and high-speed internet access in rural areas. Learn more at www.rd.usda.gov/or.