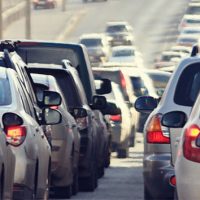 BEND – Today, supporters of Measure 9-135, Bend's Transportation Bond, gathered at Reed Market Road next to the railroad tracks to highlight the need for road improvements. The location is the site of a new bridge slated as part of the $190 million bond facing voters. A coalition of Bend's businesses, environmental groups, and community leaders spoke to the huge benefits to be reaped by passage of the measure.
"This long needed investment in a balanced transportation system will dedicate $190 million towards improvement projects, including a new bridge over the railroad at Reed Market Road, right here," said Katy Brooks, Executive Director of the Bend Chamber of Commerce. "The projects this measure will fund are designed to relieve traffic congestion, improve street safety, and add more choices for getting around town."
Dave Howe, retired Bend Fire Battalion Chief, spoke to emergency response times, "In emergency situations, time is a critical factor. Traffic issues in Bend often slow first responders, increasing response times and delaying critical actions to save lives and homes. We don't know when an emergency will strike. But we can help improve chances for safety and survival in our community by voting in favor of 9-135."
Other speakers underscored the various health and environmental benefits of the bond measure. "Our city is rapidly growing," said Lisa Goodman, St. Charles Public Information Officer. "Now is the time to make this investment in the health and livability of our community."
"Transportation accounts for nearly 30% of all U.S. greenhouse gas emissions," said Mike Riley, Executive Director of The Environmental Center. "By completing missing road networks and improving safety for drivers, walkers, and cyclists, we can reduce the amount we drive and the gasoline we use, and we'll minimize air pollution. Please vote yes on Measure 9-135."
In addition to major road improvements like the bridge for Reed Market, the measure includes filling in missing sidewalks to increase pedestrian access and safety, improved lighting and road crossings near schools, parks, and jobs, and construction of a connected cross-town bike network on twelve key routes to make Bend dramatically more bike-friendly.
For more information visit www.gobend2020.com