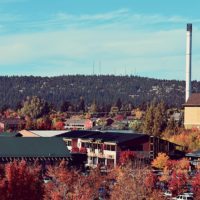 The City of Bend will be hosting an online open house from Oct. 22 through Nov. 12 for community members interested in learning about the Southeast Area Plan and providing feedback.
The Southeast Area was identified in the 2016 Urban Growth Boundary (UGB) expansion plan and contains approximately 479 acres outside of current City limits and within the UGB. The expansion supports community needs by providing land for additional housing, jobs, commercial services, schools and parks.
When expansion areas develop, an "Area Plan" guides the development. The City Council has to adopt an Area Plan for a specific geographic area, to implement applicable goals and policies of the Bend Comprehensive Plan, the guiding document for land use in City limits. The Southeast Area expansion is bordered by Knott Road to the south, SE 27th Street to the east and the current City limits to the north and west.
The open house will give community members an opportunity to review the current plan and provide input on various elements such as proposed changes to the Bend Comprehensive Plan and Development Code that support the creation of housing, jobs, commercial services, schools, parks and multi-use paths in the southeast area.
A public advisory committee called the Southeast Area Plan Advisory Committee (SEAPAC) helped shape the plan. The committee is comprised of property owners within the expansion area, representatives from adjacent Neighborhood Associations, special districts and state and local agencies.
"The Southeast Area Plan was intentionally designed to support the vision of a complete community where residents can live, work, shop and play in the southeast area of Bend," said SEAPAC Chair Sharon Smith. "We think the plan incorporates a vision that the entire community will embrace. While each UGB expansion area is unique, our collaborative process can provide a template that other areas can follow."
The plan includes new collector roads so community members have new options for traveling east to west and north to south and a network of multi-use paths.
To access the open house and learn more about the Southeast Area Plan, please visit the project website at www.bendoregon.gov/southeastareaplan.