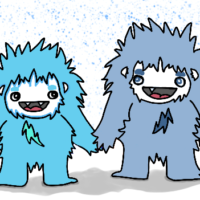 Are you yeti for some winter reading?
PRINEVILLE, Ore.–October 21, 2020–Crook County Library is hosting its first ever Winter
Reading Program from November 16, 2020 through January 9, 2021. We are encouraging
everyone in Crook County to dedicate themselves to read for just 15 minutes a day. In addition
to being a lot of fun, the Winter Reading Program encourages Crook County residents of all
ages to read for pleasure and to use library resources during the winter. For children and teens,
a casual, regular reading habit is critical for maintaining and building literacy skills, especially
when school is not in session. Kids also benefit from seeing the adults in their lives reading for
enjoyment.
Our mascots for this program are Dumpling and Flurry, our very bookish yeti's, and they will be
guiding you through the Beanstack reading challenge software and mobile app. Beanstack
makes it possible for you to track your reading and participate in some really fun activities right
from your home, or anywhere you have an internet connection.
Crook County Library has partnered with Crook County on the Move, The High Desert Museum,
The Oregon Observatory, and the Deschutes Land Trust to provide educational and enjoyable
activities for everyone. Learn something new, pick up a craft kit, or get great tips from local
experts through our video series created by Crook County on the Move. This program has
something for all ages and interests and is free and open to the public.
If this isn't enough to entice you, we are also giving away great prizes. Children and teens earn
a free book just for signing up for the program. Adults have to work a little bit harder and will
receive their free book after 30 days of reading. Books can be picked up anytime during our
open hours at the library. Also, for each reading goal you meet or activity you complete, you will
earn an entry into our grand prize drawings.
To sign-up for the Winter Reading Program go to www.crooklib.beanstack.org on or after
November 16, 2020, or sign-up at the library.
Located in Prineville, Crook County Library provides traditional and innovative library resources
and programming to Crook County residents of all ages. It is an environment where people
come together, online and in-person, for lifelong learning, enjoyment, and connection. To learn
more, visit us at www.crooklib.org.