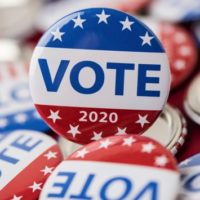 yorkfoto/iStockBy LIBBY CATHEY, ABC News
(WASHINGTON) — With 11 days to go until Election Day and President Donald Trump and former Vice President Joe Biden racing toward Nov. 3, voters have turned out in record numbers to cast their ballots early.
More than 50 million Americans have already voted in the 2020 election, reflecting an extraordinary level of participation and interest despite unprecedented barriers brought on by the coronavirus pandemic.
The candidates faced off in the final presidential debate of the 2020 election cycle from Belmont University in Nashville Thursday evening — their last chance to pitch themselves to tens of millions of voters in primetime before Nov. 3.
In the final weeks of campaigning, the president has remained on defense as polls show him trailing nationally and in several battleground states key to his reelection hopes. He has two rallies in Florida today.
Biden, maintaining a lead in national polls — his largest of the election, according to FiveThirtyEight's average — stayed off the trail ahead of the debate, a pattern for the former vice president. On Friday, he's scheduled to deliver remarks in Wilmington, Delaware, on COVID-19 and the economy.
Polls indicate a huge pre-Election-Day edge for Biden and a sizable Trump advantage among those who plan to vote on Nov. 3. Trump has sowed doubt in the mail-in ballot process — and imminent election results — for months.
All 50 states plus Washington, D.C., have some form of early voting underway. Check out FiveThirtyEight's guide to voting during the COVID-19 pandemic here.
Here's how the news is developing Friday. All times Eastern:

Oct 23, 11:21 am
Five key takeaways from the final presidential debate

After the second presidential debate was canceled following Trump's coronavirus diagnosis and subsequent hospitalization, both he and Biden returned to the stage Thursday night for their final opportunity to draw direct contrasts with one another before Election Day.
For 90 relatively-civil minutes, the pair sparred over a range of topics including the pandemic, health care, election security, immigration, their personal financial entanglements and climate change, among other things, guided by moderator Kristen Welker of NBC News.
The closing arguments arrived, however, on a day in which the number of early votes cast this year eclipsed the number of early votes total in 2016 — still with days to go until Nov. 3. Over 50 million Americans have already voted, which leaves a winnowing group of persuadable individuals for Trump and Biden to win over.
Though there was some doubt about whether the event would take place after Trump repeatedly expressed dissatisfaction with the nonpartisan Commission on Presidential Debates' attempt to hold a virtual second debate prior to its eventual cancelation — and later its decision to mute the candidates' microphones during portions of Thursday's discussion — the debate moved forward without delay and largely absent of the repeated interruptions that marred the first.

Click here to read five key takeaways from the final presidential debate.

-ABC News' Cheyenne Haslett and Adam Kelsey

Oct 23, 10:47 am
Trump still searching for Biden who isn't
He's trailing in the polls, running low on cash and watching campaign aides scramble to avoid blame for impending defeat.
For all that, Trump still might have the campaign where he wants it. If that's the case, he still needs his opponent to be someone and something that he isn't quite — or hasn't yet been, in the minds of voters who still mostly like him.
The second and final debate was a study in contrasts from the first.
One thing that didn't change, though, was Trump's attempts to make Biden out as a corrupt and incompetent extremist. The plays that worked against Hillary Clinton and may have worked against Bernie Sanders have shown few signs of effectiveness against Biden.
Biden sought to bring the conversation back to bigger issues and called Trump "confused": "He thinks he's running against somebody else."
The former vice president gave Trump some of what he wanted late in the debate when he said he would "transition from the oil industry."
It's an easy and obvious line of attack for Republicans who want and need to frame Biden as a puppet of the far left. But redefining Biden will remain difficult — even if the president found a way to stay on message from here.

-ABC News' Political Director Rick Klein
Oct 23, 10:10 am
Pence votes in-person in Indiana
Vice President Mike Pence and second lady Karen Pence cast their ballots in-person this morning back home in Indiana.
They were originally scheduled to early vote the week of the vice-presidential debate but that was rescheduled to today.
Afterward, they both gave a thumbs up to the cameras.
When a local reporter asked Pence if there was anything he'd like to say, he answered: "Great honor. And great to be back home again. Thank you."
Pence has campaign stops today in Ohio and Pennsylvania. He holds two rallies in Florida on Saturday.

-ABC News' Justin Gomez
Copyright © 2020, ABC Audio. All rights reserved.