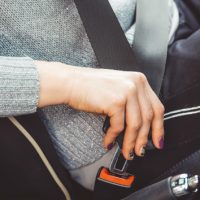 On November 16, Crook County Sheriff's Office will be teaming up with law enforcement
agencies nationwide for a Border to Border (B2B) law enforcement event to kick off the
annual Click It or Ticket seat belt campaign which runs through November 29. The U.S.
Department of Transportation's National Highway Traffic Safety Administration is asking all
states to participate in B2B.
According to NHTSA, in 2018, there were 9,778 unbuckled passenger vehicle occupants killed
in crashes in the United States. In that same year, 56 percent of passenger vehicle occupants
killed at night (6 p.m.–5:59 a.m.) were not wearing their seat belts. That's why one focus of
the Click It or Ticket campaign and the B2B kickoff event is nighttime enforcement.
Participating law enforcement agencies will be taking a no-excuses approach to seat belt law
enforcement, writing citations day and night. Seat belts save lives, and everyone—front seat
and back, child and adult—needs to remember to buckle up—every trip, every time.
For more information on the Click It or Ticket mobilization, please visit www.nhtsa.gov/ciot.