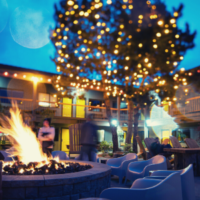 Mt Bachelor Season Pass Holders Can Stay, Play, and Stay Again!
(November 18, 2020) Bend, Ore. — Bend's newest boutique hotel opens its doors to Mt Bachelor season pass holders, offering a come-and-go-as-you-please policy for outdoor skiing and snowboarding lovers and their crews. With 100 rooms, suites, heated pool and hot tub, and a brand-new 10-ft wide outdoor fire "Pit," outdoor adventurers will have their winter season made.
Campfire Hotel Season Pass Holders will be able to plan their trip in advance or show up the night before they hit the slopes (but make sure you reserve parking at Mt Bachelor), snag a private sleeping room, wake up early (but not too early!) and head out on the open road to the Mt Bachelor ski trails. At the end of the day, reverse that trip, relax, enjoy a cold craft beer by the fire, hit the heated pool and hot tub, and do it all again the next day.
Winter-loving snow enthusiasts will be able to purchase either a Weekday pass for wanderers staying Sundays-Thursdays, or a Weekend warrior pass for folks looking for the truly unlimited option. Plus, when friends and family want to join in on the fun, pass holders can add extra rooms for 15% off, as often as they want!
Campfire is only thirty minutes from Mt Bachelor's ski park entrance. Less travel time means more time on the slopes, and getting out to the mountain two days in a row no longer seems like a pipe dream. Plus, with family-friendly accommodations (Bunk Crew King suites have bunk beds!), there's less hassle wrangling kids in the morning, which means more time for getting up to big adventures in Central Oregon.
James Pearrow, General Manager of Campfire Hotel, says of the new pass program, "Campfire Hotel is perfectly poised to be a basecamp for outdoor adventures in and around Bend, any time of year. This winter, we wanted to kick off our launch in Bend to include opportunities for our guests to get out and about on the mountain. Plus, between the Pool and the Pit, Campfire offers an epic landing spot to crash after a long day making the most out of Bend's winter season."
Bend is world-famous for both its outdoor pursuits and the pristine beauty of Central Oregon's natural wonders. Find art exhibits, award-winning restaurants, spa experiences, the legendary Bend Ale Trail for craft beer-lovers, as well as ancient lava tube cave tours, and stellar views of raptors soaring at the High Desert Museum. And at 30 minutes from Mt Bachelor, there's no beating Bend's proximity to the best of the Pacific Northwest.
Campfire Hotel is offering a limited amount of Winter Season Passes, so once Mt Bachelor passes are secure, give the front desk a ring to start reserving stays at 541-382-1515. Find more information about the Campfire Hotel Season Pass, including all restrictions, by visiting campfirehotel.com/season-pass.