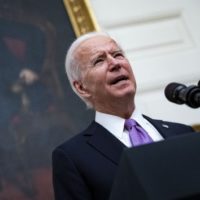 Al Drago/Bloomberg via Getty ImagesBy LIBBY CATHEY, ADIA ROBINSON, JACK ARNHOLZ, MEREDITH DELISO, LAUREN KING and MICHELLE STODDART, ABC News
(WASHINGTON) — This is Day Three of the administration of President Joe Biden and Vice President Kamala Harris.
Here is how events are unfolding. All times Eastern:
Jan 22, 7:25 am
Harris to stay at Blair House while Naval Observatory undergoes repairs
Harris and her husband, second gentleman Doug Emhoff, will stay at Blair House while repairs at the vice president's official residence, the Naval Observatory, are underway, a spokesperson told ABC News.

Blair House, which was built in 1824, is located just steps from the White House and is the oldest of four connected townhouses that comprise the president's guest house.
An aide had previously confirmed that Harris will not immediately move into the Naval Observatory to "allow for repairs to the home that are more easily conducted with the home unoccupied." The repairs are to replace the liners in the chimneys "and other household maintenance," the aide said.
Jan 22, 1:30 am
Biden to outline response to US economic crisis
On his third day in office, President Joe Biden will tackle one of the country's biggest issues: the economic recession brought on by the COVID-19 pandemic.
Biden will deliver remarks on his administration's response to the economic crisis in the U.S. Friday afternoon, according to the White House.
His announcement will come as so many Americans (at least 900,000) continue to battle with unemployment caused by the pandemic.
Biden will also continue to sign executive orders, the White House said.
Copyright © 2021, ABC Audio. All rights reserved.