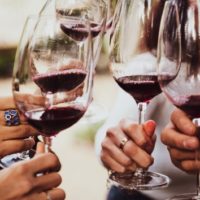 Naked Winery, headquartered in Hood River with a tasting room in the Old Mill District, will now be known as Evoke Winery. Visitors will see signage changes taking place at the Old Mill District tasting room over the next several days. The owners say the new name is part of an evolution of the company since its inception in 2005.
"Why Evoke? Well, we believe that great wine has the power to evoke stories, laughter and good old fashioned conversation. And that right there is the reason why we love to do what we do," the company website read. "After all, the best part of life is the stories we collect and share along the way."
Owners say the name is the only thing that will be changing with the company as customers can expect the same staff and service. .
"While we are sad to be leaving Naked behind, we are so excited for this next chapter in our story and all the possibilities that it brings. For years we've navigated customer confusion with another similarly named online wine club. In order to stay true to who we've always been, we made the difficult decision to change our name. The good news is, that's the only thing that's changing."
Evoke Winery operates tasting rooms in Seaside, Bend, Hood River, and plan on opening a Vancouver Waterfront location later this year.