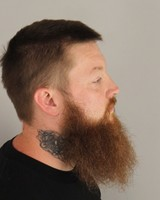 The Deschutes County Sheriff's Office is currently looking for Braxton Michael Monson, 36 year old male, approximately 6 feet tall 200 pounds. On May 11, 2022 at approximately 10:48 PM a DCSO deputy tried to pull over a 1994 Toyota Camry in the area of NE 5th Street and NE Maple Lane in Redmond. The driver identified as Monson refused to pull over and the Deputy pursued the vehicle for a short distance before losing sight of the car. As the deputy was driving in the area, the vehicle pulled out in front of him in the area of NE 5th Street and Maple. The deputy again tried to stop the vehicle. The vehicle stopped and the driver fled on foot in the area.
The deputy on scene as well as residents in the area heard what was believed to be gunshots in the area where Monson ran to. At this time we do not have any reports of injuries or damage from gunshots in that area, or have otherwise been able to confirm there were actual gunshots in that area.
An extensive search of the area with K9 teams and drones were unsuccessful. Alerts were sent out to residents in the neighborhood advising law enforcement was searching for a male suspect who may be armed and dangerous. Stay indoors and call 911 if anything suspicious is observed. An updated alert was sent out this morning advising law enforcement was no longer active in the area and the suspect is still outstanding.
The Sheriff's Office is asking for the public's assistance in locating Monson. Monson was last seen wearing dark jeans and hooded sweatshirt. He has a dark colored flower tattoo on his neck and various tattoos on his arms. The attached photos show him with a longer beard. His facial hair is not currently that long. It is possible Monson is armed, so do not attempt contact with him. Monson is known to frequent the Prineville and Madras area.  If you see Monson or know his location please call 911 immediately.
DCSO was assisted by the Redmond Police Department and the Oregon State Police.