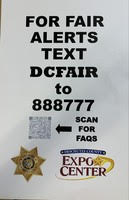 The Deschutes County Sheriff's Office and Deschutes County Fair and Expo will be utilizing Nixle event subscription or "Key Word" messaging through Deschutes Alerts during the Deschutes County Fair. This tool will assist us in providing important and even emergency information to those at the fair.
The Deschutes County Sheriff's Office will utilize the tool to provide information to fairgoers of situations such as missing children, traffic issues, severe weather, or emergencies.
To sign-up, fairgoers need only to text the key word: DCFAIR to 888777. This will anonymously opt them in for text messages from the Sheriff's Office. If you wish to stop getting alerts, you can text STOP to the same number. The DCFAIR key word subscription will automatically expire after the fair.
The Deschutes County Sheriff's Office is a full service agency that oversees the adult jail, provides patrol, criminal investigations, civil process and search and rescue operations. Special units include SWAT, Marine Patrol, ATV Patrol, Forest Patrol, along with six K9 teams. Founded in 1916 and today led by your duly elected Sheriff L. Shane Nelson, the Deschutes County Sheriff's Office serves over 200,000 residents in Deschutes County. The agency has 259 authorized and funded personnel, which includes 193 sworn employees who provide services to the 3,055 square miles of Deschutes County.