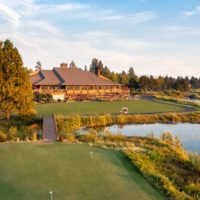 Sunriver Resort, the Pacific Northwest's treasured resort destination, located moments from Bend, Oregon, and nearby Mt. Bachelor, is thrilled to announce its inaugural Sunriver Resort Food & Wine Festival, taking place February 1 – 28, 2023. The month-long gastronomic celebration will showcase the region's rich farming and food heritage, along with Executive Chef Josh Hedrick's unique culinary vision, which emphasizes ingredients from the natural surroundings of Central Oregon and draws inspiration from family campfire gatherings on the frontiers of Oregon's high desert.
Open to all, from hotel guests to visitors and locals, the festival will offer a wide array of tasting events, cooking classes, live music, shopping, and more, plus feature regional vintners, artisans, farmers, local craft spirits and beers from around Central Oregon and across the Pacific Northwest.
Special stay offerings will be available, including a Valentine's Day special, and events and programming will take place every day through February. See below for highlights and a complete schedule of events, pricing, package details, and reservations. For more information, please visit the website or call 855-420-8206.
Sunriver Resort Food & Festival Lineup
Lodge Kitchen | Every Saturday in February from 5:00pm – 8:30pm
Featuring a special themed menu and wine list each week.  The dinner includes a four-course menu. Cost: $160/couple. Optional wine pairing for an additional cost of $59/couple. Reservations required. Seating times are available from 5:00pm – 8:30pm.
Weekend Brunch & Bar With a View
Lodge Kitchen and Owl's Nest | Every Saturday and Sunday in February from 7:00am – 1:00pm (Lodge Kitchen) and 9:00am – 1:00pm (Owl's Nest)
Brunch with a side of sweeping views of the Great Meadow and the Cascade Range, this dining experience in this setting is a must-experience. What makes this even better is the Bloody Mary and Mimosa bar. Reservations are not required. See menu for prices.
Marketplace Shop, Sip & Dine Events
The Lodge Living Room | Every Saturday and Sunday in February from 10:00am – 1:00pm
Sunriver Resort will transform the living room at The Lodge into a marketplace featuring local makers and regional favorites, including Inspired Leaf Teas, JB Bowls, and a special pop-up experience with jewelry maker Oregon Stone on February 18.
Cooking Classes with the Chef
Lodge Kitchen | February 4 and 25 | 3:00pm – 5:00pm
Join Executive Chef Josh Hedrick for an immersive chocolate cooking demo featuring Kings Estate Winery. Learn the secrets of making delicious foods where chocolate is a main ingredient. The 90-minute experience includes all ingredients, kitchen essentials, tools, and hot chocolate or a glass of Kings Estate wine. Cost: $40 per couple. Capacity is limited to 12 people.
The Super Bowl Football Game – Watch, Dine & Drink Event
Owl's Nest | Sunday, February 12 from 9:00am – Close
Catch every moment of the game on The Owl's Nest's five HD TVs while simultaneously satiating your tastebuds and thirst with food and drink specials, including The Lodge Burger, Smoked Brisket Nachos, Chicken Wings, BBQ Meatballs, Devils on Horseback and more. Fun games and prizes.  Free to watch. Reservations are not required.
5-Course Prix Fixe Valentine's Day Dinner & One Night Stay
Lodge Kitchen | Tuesday, February 14, from 5:00pm – 8:30pm
Celebrate your sweetheart with this special dinner showcasing Chef Josh Hedrick's most notable dishes. Set to live music and beginning with a champagne toast, the five-course menu features fresh, flavorful, locally inspired cuisine. Cost: $99 per person (or $189 per person including one night's stay) Available February 14th only. Reservations are required and accepted for dining between 5:00pm – 8:30pm.
Apres Adventure Happy Hour Series at Owls Nest
Owl's Nest | Every Sunday through Thursday in February from 4:00pm – 6:00pm
A storied spot for après-adventure gatherings for more than 50 years, Owl's Nest will be offering $2 off on all appetizers and well-drinks. Reservations are not required. Prices vary.
Every Friday in February from 4:00pm – 6:00pm
Gather in the Main Lodge for craft beer samplings from local breweries. Cascade Lakes Brewing Company, Central Oregon's only not-for-profit brewery, on February 3, and the award-winning Deschutes Brewery on February 10. Stay tuned for more local breweries to be announced..
February Special Stay Offers
Valentine's Dine & Stay Package
Tuesday, February 14
Ready for a romance-filled escape? Lovebirds can enjoy an evening of mouth-watering indulgences prepared by Chef Josh Hedrick's most notable dishes, followed by a night's stay in a cozy resort room. Cost: $189/person. Reservations required. Only available on February 14th.
Dine & Staycation for Central Oregon Locals
For those seeking to broaden their Bend dining choices and satiate their palate, Sunriver Resort is inviting locals to experience a Central Oregon culinary adventure with its new Dine & Stay Experience. The package includes one night of accommodations for two in a Lodge Village guest room for $189.
Additional information about Sunriver Resort Food & Wine Festival can be found at www.sunriverresort.com/foodandwinel.
For more information about offers and reservations, please visit www.sunriverresort.com/offers or call 855-420-8206.