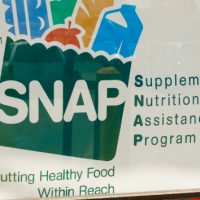 Starting May 22, the Oregon Department of Human Services will begin replacing Supplemental Nutrition Assistance Program (SNAP) food benefits for victims of electronic theft who have had benefits stolen from their Electrotonic Benefit Transfer (EBT) cards. Electronic theft includes card skimming, card cloning and other similar methods.
Thanks to the Consolidated Appropriations Act, 2023, ODHS can soon begin to replace SNAP benefits that were stolen electronically on or after Oct. 1, 2022.
After May 22, people in Oregon whose SNAP benefits were stolen should request replacement benefits immediately.
People who know their SNAP benefits were stolen between Oct. 1, 2022, and May 22, 2023, must request replacement benefits by June 21, 2023. ODHS cannot replace benefits that were stolen before Oct. 1, 2022.
People who discover their SNAP benefits were stolen after May 22 will have 30 days from the date they discover the theft to request replacement benefits.
"We know that many individuals and families in Oregon rely on the food assistance they receive through their EBT cards to meet their basic needs and to get enough healthy food for themselves and their families," said Claire Seguin, interim director of the ODHS Self-Sufficiency Programs. "We are glad to be able to replacement benefits that were stolen due to EBT card skimming fraud and we encourage people to take steps to protect their benefits."
How to request replacement SNAP benefits
If your Temporary Assistance for Needy Families (TANF) benefits are stolen
You can request replacement benefits by contacting:
How to protect your EBT card information:
Resources to help meet basic needs
About SNAP
Administered by ODHS, SNAP is a federal program that provides food assistance to approximately 1 million eligible, low-income families and individuals in Oregon, including many older adults and people with disabilities. Oregonians in need can apply for benefits, including SNAP, child care, cash assistance and Medicaid. Learn more at https://govstatus.egov.com/or-dhs-benefits. For local resources in your area, such as food or shelter, please call 2-1-1 or reach out to the state's Aging and Disability Resource Connection (ADRC) at 1-855-ORE-ADRC or 1-855-673-2372.