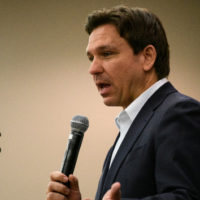 (WASHINGTON) — Florida Gov. Ron DeSantis is set to forgo a traditional presidential campaign launch and will instead hold his "campaign kickoff" event next week in the key state of Iowa, according to campaign plans exclusively obtained by ABC News.
The May 30 kickoff event will begin a four-day swing through 12 cities and towns in the early nominating states of Iowa, New Hampshire and South Carolina, which the campaign is billing as "Our Great American Comeback Tour."
"Our campaign is committed to putting in the time to win these early nominating states. No one will work harder than Governor DeSantis to share his vision with the country — he has only begun to fight," said campaign manager Generra Peck in a statement to ABC News about the plans.
During the tour, the Florida Republican governor will participate in a series of speeches, retail shops and fireside chats.
Although DeSantis has already visited key primary states over the course of the past few months, these will be his first visits as an official candidate for president.
Earlier this month, DeSantis was a special guest at Rep. Randy Feenstra's third annual Feenstra Family Picnic in Iowa and pitched a "positive alternative" to Republican voters.
DeSantis launched his 2024 presidential bid for the White House on Wednesday, releasing a video announcing his candidacy prior to the glitch-plagued Twitter Spaces campaign launch with Twitter owner and billionaire Elon Musk.
"I am running for president of the United States to lead our great American comeback," DeSantis said during the Twitter Space.
"We know our country's going in the wrong direction. We see it with our eyes and we feel it in our bones," he said, going on to criticize current Democratic policies regarding the southern border, crime and public safety and the cost of living for middle-class families.
Copyright © 2023, ABC Audio. All rights reserved.