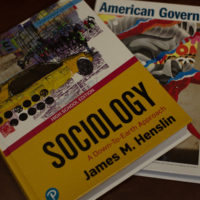 The Redmond School District is inviting community members to preview secondary curricula that will be recommended for adoption to be implemented next school year. The materials selected are "American Government: Stories of a Nation" for high school Advanced Placement U.S. Government, "Sociology: A Down to Earth Approach" for high school Sociology, "Galeria" for middle school Dual Language – Language Arts, and various plays for high school Drama class.
Community members are welcomed to preview the curriculum materials at the Redmond School District Office, located at 145 SE Salmon Avenue, on weekdays from May 23 to May 31 between 7 a.m. and 4 p.m. Interested community members can also view the curriculum online with links that can be found in the secondary curriculum preview announcement on the school district website, redmondschools.org. The announcement is located on the homepage under the district news section.
Anyone with questions about the "Galeria" curriculum can contact Trevor Flaherty, Dual Language and English Learning Development assistant director, at trevor.flaherty@redmondschools.org. For all other curriculum questions, please contact Stacy Stockseth, school improvement specialist, at stacy.stockseth@redmondschools.org.