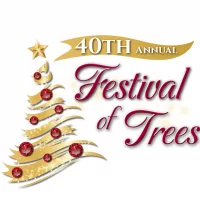 Hospice of Redmond is celebrating its 40th annual Festival of Trees. A long-time Central Oregon tradition, Festival of Trees, is returning to the Deschutes County Fairgrounds this December with a goal of showcasing 40 trees. This year, the event will be hosted in two buildings at the Deschutes County Fairgrounds to accommodate the additional trees and anticipated guests. The one-day event will be on December 2, 2023. Hospice of Redmond's Festival of Trees supports hospice services for Central Oregon residents.
"This event is special to us; it is our only large fundraiser, and we are thrilled to celebrate our 40th year," said Jane McGuire, Executive Director of Hospice of Redmond. "We could not put this event on without the support of our community of volunteers and sponsors and are looking forward to kicking off the holiday season with this grand event."
Festival of Trees is Hospice of Redmond's fundraising event of the year. Proceeds from decorated trees, miscellaneous auction items, and ticket sales help fund many of the nonprofit's hospice services and programs. The formal Gala begins with delicious drinks and appetizers amid beautifully decorated trees, followed by a live and entertaining auction. Many prominent Central Oregon businesses and supporters of hospice services purchase trees and decorate them with various sought-after items. Vacations to Whistler and Mexico were on one popular tree sold in 2022. Hospice of Redmond is decorating a special tree for its new Pet Peace of Mind program and Camp Sunrise this year. Proceeds from the sale of these trees will support the individual programs.
Hospice of Redmond is accepting Tree Decorator and Sponsor applications through October 15th. Tree Decorators will decorate the trees at the Fairgrounds on Friday, December 1st. The community is invited to the fairgrounds for a free viewing of the trees on Saturday, December 2nd, from 10 am-2 pm. The family fun tree preview will include Santa, and live local entertainment. Attendees can vote for the People's Choice Award for their favorite tree.