MyCentralOregon.com, powered by Horizon Broadcasting Group, which owns and operates 105.7 KQAK, The Peak 104.1, KRCO AM/FM, KBNW AM/FM and 95.7 FM is committed to keeping you up to date with local closures and alerts, due to the Coronavirus.
If you have an alert, please contact MyCentralOregon.com News Director, Austin Reed via: areed@horizonbroadcastinggroup.com or call our News Tip Hotline @ 541-323-6397.
FOR A LIST OF BUSINESSES ACROSS CENTRAL OREGON THAT ARE OPEN, CLICK HERE!
LATEST ALERTS: 
*2020 BEND ELKS BASEBALL SEASON CANCELED
*2020 BEND BREWFEST CANCELED
*2020 BEND 4TH OF JULY PET PARADE AND OLD-FASHIONED FESTIVAL CANCELED
*The City of Bend has extended an order discouraging tourist travel and related activities to remain in effect until our county successfully completes Phase 1 of the statewide reopening plan. The order is intended to protect the health and safety of the hospital/medical system and Bend community during the state of emergency.
*The 2020 Crooked River Roundup Horse Races will not go forward this year because of the COVID-19 pandemic, it was announced Friday.
*Deschutes County Fair & Rodeo is canceled due to pandemic
*Hood to Coast cancels 2020 relay, impact widely felt, rescheduled for 2021.
Warm Springs residents told to stay home, wear masks; COVID-19 cases continue to rise there.
————————————————————————————
Cycle Oregon Cancels All 2020 Events Due to Ongoing Uncertainty Around COVID-19 Pandemic
————————————————————————————
The Warm Springs Gaming Enterprise continues to monitor the COVID-19 pandemic closely. After much consideration, extensive review of current situations with our Tribal Council and Board of Directors Indian Head Casino management has extended their voluntary closure until further notice.  At this time, we cannot provide a definite reopen date.
————————————————————————————
Sisters Outdoor Quilt Show Announces Cancellation of Show Day Events Due to Coronavirus (COVID-19) Sisters, OR – The Sisters Outdoor Quilt Show (SOQS) announced today that it will cancel the events for the 2020 Sisters Outdoor Quilt Show. The 2020 Sisters Outdoor Quilt Show was scheduled for Saturday, July 11.
————————————————————————————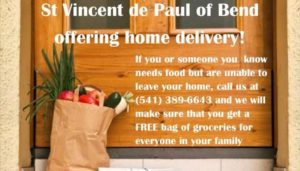 ————————————————————————————
Organizers of the Cascade Cycling Classic announced Thursday the cancellation of the 2020 professional and amateur cycling stage race, as well as setting the dates for the 40th edition of the race in 2021.
————————————————————————————
The Sisters Rodeo Board of Directors made a unanimous decision to cancel the 2020 rodeo for this year.
————————————————————————————
2020 Pole Pedal Paddle canceled due to COVID-19
---
2020 4 Peaks Music Festival cancelled. 4 Peaks will absorb the effects of this cancellation in order to provide full refunds to all 4 Peaks ticket holders.
————————————————————————————
AA holding online meetings, more here:
NA holding online meetings, more here:
————————————————————————————
Expanded Grab and Go Meals Begin March 30
Free meals available at eight sites in Bend, La Pine
Amity Creek Magnet at Thompson School
437 NW Wall St, Bend 
Bend Senior High School
230 NE Sixth St., Bend 
Elk Meadow Elementary School
60880 Brookswood Blvd., Bend 
Ensworth Elementary School
2150 NE Dagget Lane, Bend
La Pine High School
51633 Coach Road, La Pine
Mountain View High School
2755 NE 27th St., Bend 
Pilot Butte Middle School
1501 NE Neff Rd, Bend
R.E. Jewell Elementary School
20550 Murphy Rd, Bend
Bend-La Pine Schools custodial staff will be cleaning before and after each meal. Adults can purchase a meal for $4.
---
WIC BENEFITS AVAILABLE TO NEW APPLICANTS
Oregon Women, Infants and Children (WIC) is supporting the health and wellbeing of families throughout Oregon during this period of social distancing by providing services over the phone, text message and video chat. WIC offers healthy food, nutrition education, breastfeeding support and connections to community resources. Moms, dads, grandparents, foster parents or other guardians may apply for WIC for children under age 5. Applicants can fill out an online interest form any time of day or call 971-673-0040 during regular business hours.
————————————————————————————
St. Charles Outpatient Rehabilitation remains closed with a tentative plan to re-open services April 27.
————————————————————————————
In collaboration with regional chambers and organizations throughout Central Oregon and the state, together with OSU-Cascades Innovation Co-Lab, we have launched a new  website, www.CentralOregonSOS.com. Developed in response to the COVID-19 uncertainties amidst our business community.
————————————————————————————
Deschutes National Forest closes all campgrounds until May 8
————————————————————————————
(3.23.20) Oregonians are being directed to stay at home "to the maximum extent possible" starting Monday as Governor Kate Brown issued a new executive order to help curb the spread of the novel coronavirus, COVID-19.
Executive Order 20-12 also adds to the list of businesses temporarily closed by the outbreak where it is hard to avoid close personal contact, like barber shops and salons, gyms and fitness studios, theaters, arcades, and more. If a business is allowed to stay open, they must put social distancing policies in place.
An announcement of the order states that "failure to comply with the order will be considered an immediate danger to public health and subject to a Class C misdemeanor." 
————————————————————————————
The U.S. Postal Service's provision of mail and package delivery services is not affected by state and local government actions that are restricting commercial and personal activities
————————————————————————————
FROM BEND PARKS & RECREATION:
Playgrounds, sports courts, exercise equipment and skateparks are closed. This includes pickleball, tennis, basketball, horseshoes and bocce ball courts.
Walking, running, biking, skating or using a wheelchair or other mobility device while maintaining at least 6 feet between people is allowed.
Off-leash dog areas, picnic shelters and restrooms remain open.
Keep at least 6 feet from others for social distancing.
Wash hands before and after any visit to a park or trail.
If this is not possible or if you are sick, stay at home – do not use visit a park or trail.
————————————————————————————
MOSAIC MEDICAL ADAPTS TO ADDRESS COVID-19
Patients are encouraged to call with concerns; walk-ins not accepted
---
The Oregon State Park system is now closed. The closure includes day-use areas and no camping, until further notice.
---
The BrightSide Animal Center shelter, 1355 NE Hemlock Ave. in Redmond is now closed to the public, as is the Thrift Store, at 838 N.W. 5th St.
---
Redmond Fire & Rescue buildings closed to public.
————————————————————————————
— The Education Foundation for Bend-La Pine Schools announces the rescheduling of the 15th annual Trivia Night at the Tower to the fall.
This event that raises money for STEM, art, music & wellness Classroom Grants for Educators was originally scheduled for April 17, but is rescheduled to the fall due to COVID-19 and local/state mandates on large event gatherings.
————————————————————————————
Oregon Governor Kate Brown is extending the statewide school closure until April 28 as the state's number of Coronavirus cases keep growing.
————————————————————————————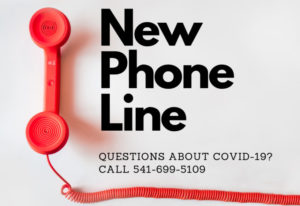 ---
ALL OREGON BARS AND RESTAURANTS CLOSED ALL ACROSS THE STATE OF OREGON, UNTIL FURTHER NOTICE.
CARRY OUT OR DELIVERY IS STILL OKAY.
---
All of ODFW's state-operated fish hatcheries are closed to public access and all visitors.
---
Tower Theatre of Bend now closed due to Governor Brown's order, banning gatherings of 250 or more people in Oregon until at least April 9, 2020.
---
COVID-19 Update for Family Kitchen, To-Go Meals Only;
For the safety of our diners and our volunteers, beginning Friday March 13th we will be serving to-go meals only.
————————————————————————————
City Club of Central Oregon is canceling Tuesday's (3.17.20) forum because of the recent updates and local uncertainties about the COVID-19 virus.
————————————————————————————
At the direction of the State of Oregon and local health authorities, we are canceling BendFilm and Scalehouse's IndieWomxn Film Festival screenings, panels and parties this weekend due to COVID-19 concerns. Looking ahead, we are also canceling screenings at the Tin Pan for the foreseeable future to assist with social distancing and in support of healthcare workers who are calling for help in slowing the spread of disease while they catch up with the active cases.
———————————————————————————–
Grace First Lutheran Church in Bend will not have services on Sunday, March 15th and Sunday, March 22nd. All other in-person meeting (such as bible studies, council meetings, etc) during that time period are also canceled.
---
(REDMOND March 12) – In an effort to support our patients, volunteers and staff, Hospice of Redmond has made the difficult decision to cancel all group gatherings and community meetings held at the main office through the end of April due to the continued spread of COVID-19.
---
PRINEVILLE, Ore.—Saturday, March 14, 2020—Starting Monday, March 16, Crook County Library is cancelling some of its regular programming to help mitigate the potential spread of novel coronavirus (COVID-19). The library building itself will remain open with its regular complement of services and has implemented a more aggressive schedule of sanitation.
The following programs will be cancelled from Monday, March 16, through Sunday, April 12.
Family Storytime
Full STEAM Ahead
Teen Tabletop Games
Teen Late Night
Teen Crafternoon
Make It Tuesday
Friends of the Library Third Saturday Sale
Chapters Bookstore for Kids
Programs that are one-on-one in nature will continue as scheduled, including Drop-In Tech Help (Wednesdays, 1:00-2:30 PM) and Thrive Social Work visits (Tuesdays, 11:00 AM-1:00 PM, 2:00-5:00 PM; Fridays, 12:00-3:00 PM). Some programs offered in partnership with other organizations, such as People From Our Past, will continue until further notice.
These cancellations are subject to change, and more events may be cancelled pending the local health situation. Check the library's website at 
https://crooklib.org
 for the most up-to-date information.
————————————————————————————
SALEM, Ore. – The Fish and Wildlife Commission has cancelled its public meeting scheduled for March 20 due to concerns over the spread of the COVID-19 virus.
"We want to keep employees, the public and Commissioners safe and this will help with our social distancing efforts," said Curt Melcher, ODFW Director.
ODFW will keep the public and all stakeholders informed as to when the Commission meeting may be rescheduled.
The Oregon Bow Hunters in Redmond has cancelled its March 14 event as well that was set to auction a Rocky Mountain goat tag.
At this time, SCI and OBH are working on contingency plans for their events and how the A&H statewide big game tags will be auctioned.
Lastly, the Stakeholder Team meetings for the Rogue-South Coast Multi-Species Conservation and Management Plan scheduled for March 31 in Gold Beach and April 1 in Central Point have also been cancelled.
---
Bend Park and Recreation District to close all public facilities from end of business Sunday, March 15 through Sunday, March 29
Bend, Ore. – (March 13, 2020) – The Bend Park and Recreation District called an emergency meeting of its Board of Directors today. As follow up, the decision was made to close facilities from public use beginning at the conclusion of facility business hours on Sunday, March 15. The temporary closure is through Sunday, March 29.
This is an unprecedented pandemic situation and the decision to close facilities to the public is in alignment with local, state and federal guidance to prioritize social distancing to slow the community spread of COVID-19.
District staff are not aware of a person with a presumptive positive case of COVID-19 directly associated with any district facility; however, this is an extraordinary step to take to ensure the safety of our patrons and staff.
Facilities closed to the public include:
Juniper Swim & Fitness Center
The Pavilion
Art Station
Bend Senior Center
District Office
Park Services
The facilities will continue to have administrative staff in the buildings, but the buildings will not open to the public. Programs scheduled at non-district locations are also canceled during the temporary closure.
---
BEND, ORE (March 13, 2020) – Amidst growing concern regarding COVID-19 Coronavirus and the announcement of extended school closures last night, Boys & Girls Clubs of Bend (BGCB) is evaluating a decision whether or not to provide programming and care for school-aged children in the coming weeks.
"Our board and leadership are actively working with local officials to determine if there is a workable and safe plan for our Club to meet the critical need in our community during school closures," said Executive Director, Juliana Williams. "The safety and well-being of our members and staff is our top priority as we evaluate the situation."
Both Clubs will be closed on Monday, March 16th in order to sanitize the facility. Additional closures have not yet been determined.
---
Redmond, OR – In order to protect the health of its tax prepares and clients against Coronavirus, AARP has canceled its free tax preparation services for the remainder of the tax season.
Taxes currently in progress and appointments already made will be completed within the next 10 days. No new walk-ins or appointments will be accepted at this time.
Although tax services are no longer available, NeighborImpact offices remain open and operational.
————————————————————————————
In light of COVID-19 virus, Susan G. Komen Oregon and SW Washington will reschedule the 22nd Annual Breast Cancer Issues Conference and the 14th Annual Lunch for the Cure events originally slated for April 2020. The new dates will be determined in time. 
The Susan G. Komen Oregon and SW Washington staff continues to monitor news daily from the Centers for Disease Control and Prevention (CDC) and the Oregon Health Authority (OHA). Komen staff employs strict personal hygiene practices recommended by the CDC. The attached press release details these efforts.